Current Researchers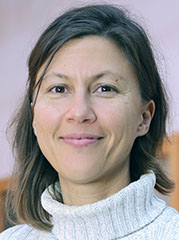 Jane Hill, Ph.D
Principal Investigator
Contact: email: jane.hill@ubc.ca
Education: Ph.D. Yale University, B.S. Rensselaer Polytechnic Institute
Research: Using breath to diagnose disease; molecular signaling within and between species.
Biography: Jane grew up in rural New South Wales, Australia. Her high school years were spent in Grenfell, the birthplace of the famous Australian poet Henry Lawson. After moving to the US and finishing a BS in Chemical Engineering and technical MBA (both at Rensselaer), she ran a small bioremediation company in central New York State for a few years. However, she wanted to know more about the microorganisms that underpinned the transformations of pollutants in the soil. So, she completed her PhD at Yale University with Water Treatment Technologist Menachem Elimelech and then worked with Biotechnologist Jordan Peccia at Yale for her post-doctoral experience. She spent over a decade measuring and evaluating how organic phosphorus compounds were cycled in the environment before turning her attention to infectious diseases and metabolomics. In her spare time, Jane likes to play tennis, hike with her dog, garden, skijor, read books and poetry, play music, travel ... and ponder microbes. When possible, she would like to continue learning how to kitesurf ... even though it scares her half to death.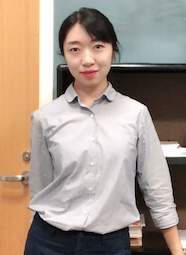 Mingming Zhang, M.S.- M.D.
PhD Candidate
Education: M.D. Dalian Medical University, Master Degree in China Medical University
Research: Breath biomarkers to detect infectious diseases.
Biography: Ming earned her M.D. in 2012 and did a series of clinical training to be a pulmonary disease specialist. While she was in her rotation at MICU of China Medical University, she found it was lengthy and difficult to detect some pathogens. She wants to improve diagnosis and treatment outcomes by creating fast-detecting methods for severe patients. Now she is conducting IMPACT-Breath project funded by Cystic Fibrosis Foundation to improve P. aeruginosa detection with breath-based diagnostics, cooperating with a group of clinical colleagues and analytical chemists.
In her spare time, she likes to read, write, watch a movie and travel. Since coming to the US, cooking has become her new hobby. She also likes classical music and dancing; recently, she's also learning pencil sketching.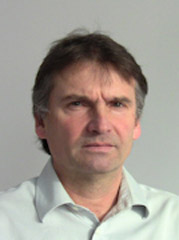 Andras Szeitz
Chemist, Research Scientist
Education: B.Sc. (Pharm), M.Phil., University Doctor (Pharmaceutical Chemistry, Pharmcodynamics and Toxicology)
Biography: Andras was born and raised in Budapest, Hungary where he received his B.Sc. degree in Pharmaceutical Sciences, Pharmacy Specialist and University Doctor degree (Summa cum Laude) at the Semmelweis Medical University. After moving to Canada, he has worked as a (bio)analytical chemist in the academia, biotechnology sector, and contract research organizations. He developed and validated (bio)analytical methods to quantitate trace amounts of small molecule pharmaceuticals in biological matrices using UHPLC MS3, LC/MS/MS, GC/MS, UPLC/DAD/FLD and other techniques, under regulatory compliance. He has also worked in drug discovery and characterization programs employing nFlow LC/HRMS systems and has a private company offering consultation services in analytical chemistry. He will work in breath biomarker fingerprinting, as well as analytical method development for GCxGC TOF-MS. In his spare time, Andras enjoys hiking, biking, travelling and ballroom dancing.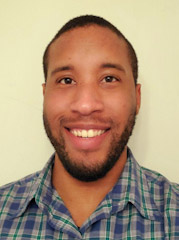 Keisean Stevenson
Postdoctoral Fellow
Education: BSc (Special) Chemistry, University of the West Indies; PhD Chemistry, University of Alberta
Research: Discovery and validation of breath biomarkers of respiratory infection using GC×GC-TOFMS
Biography: Keisean was born and raised on the island of St. Vincent in the southern Caribbean nation of St. Vincent and the Grenadines. He completed his Bachelor's degree at the University of the West Indies, Mona, Jamaica, following which, he returned home and worked as a secondary school mathematics teacher and a private chemistry tutor. About a year later, he moved to Canada to pursue graduate studies at the University of Alberta, Edmonton. There he joined the James Harynuk lab, and developed his skills as an analytical chemist conducting research into thermodynamics-based predictive modelling of retention in comprehensive two-dimensional gas chromatography. After attaining his PhD there, he went on to work as a postdoctoral fellow in Jean-François Masson group at the Université de Montréal, doing discovery-based work on maple syrup composition prior to joining the Hill lab at the University of British Columbia. In his spare time, he enjoys language learning, cooking, gaming, swimming and the occasional character-driven comedy-drama series.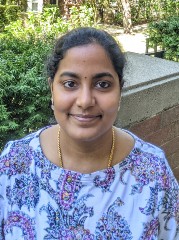 Preethi Krishnan
Postdoctoral Fellow
Education:PhD in Medical Sciences, University of Alberta, Canada
Research: Transcriptomic biomarkers for pediatric Tuberculosis
Biography: Preethi was born and raised in Chennai, South India, where she completed her Bachelors in Microbiology and Masters in Biomedical Genetics. She moved to Alberta, Canada for her PhD where the focus was on identifying small non-coding RNAs as biomarkers for breast cancer. Here, she gained expertise in high throughput data analysis and biostatistics. Wanting to expand her skill sets, she moved to Indiana University, US for a postdoctoral position. Here she identified biomarkers for type 1 diabetes and characterized the role of miRNAs in type 1 diabetes using in vitro models. Preethi is now working to integrate publicly available heterogenous datasets to identify diagnostic biomarkers for childhood tuberculosis. The larger objective is to develop portable, hand-held diagnostic devices that can be used in resource limited areas. In her spare time, she likes to read, watch movies, cook and walk. She loves and sings Indian Classical Music.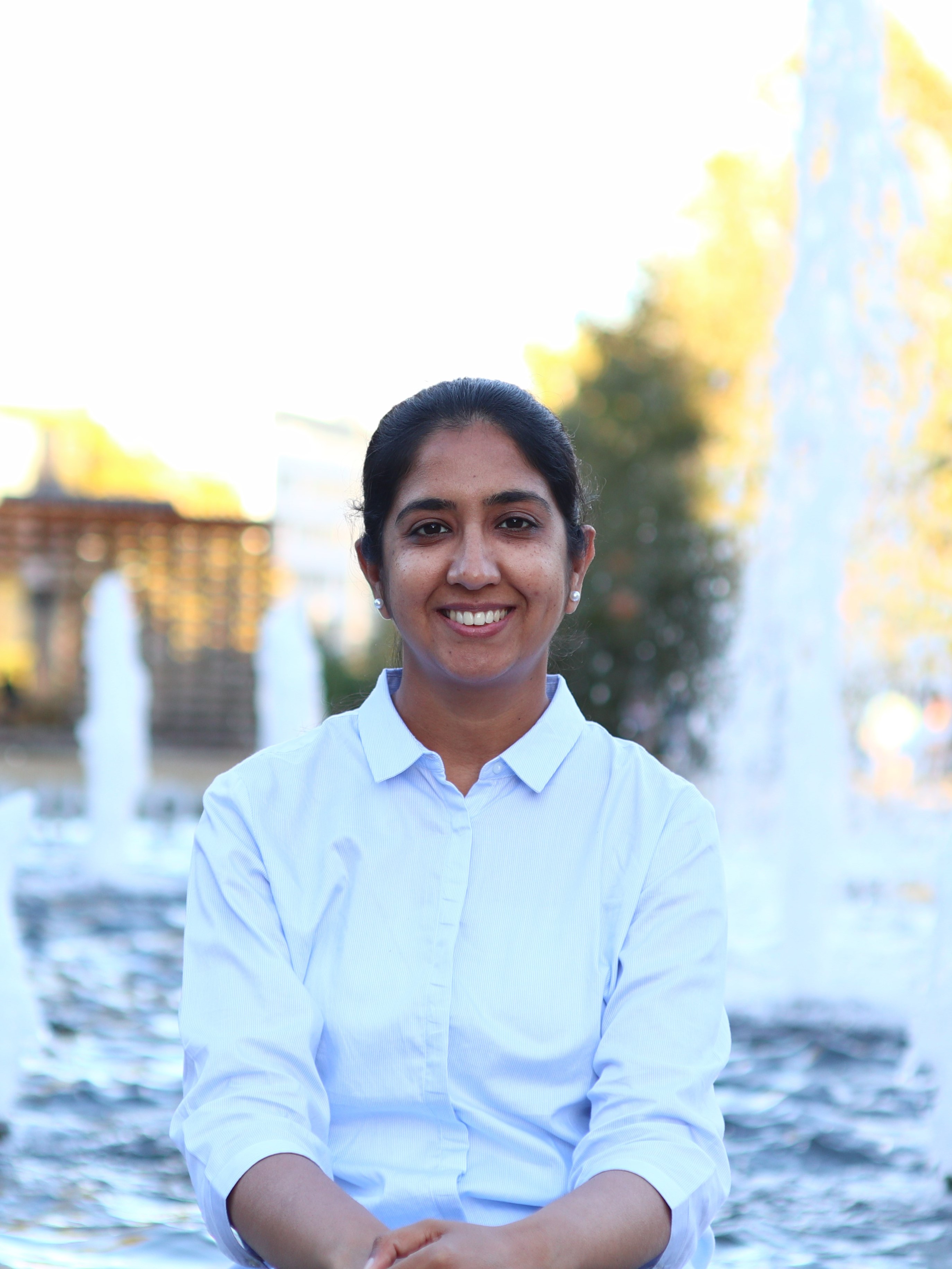 Jasmeen Kaur
Postdoctoral Research Fellow
Education:Ph.D. in Pharmaceutical Chemistry; M. Pharm; B. Pharm from Punjabi University, India
Research: Comprehensive profiling of herbal extracts using enhanced analytical chemistry tools
Biography: Jasmeen was born and raised in Punjab, India. She completed her M. pharm at Punjabi University, India. She was always passionate about teaching, so after graduation she joined Chitkara University as Assistant Professor for 1.5 years. During her M. Pharm she developed interest for working with analytical instruments, so she pursued Ph.D. in Pharmaceutical Chemistry at Punjabi University. She has specialization in Pharmaceutical Analysis. Her Ph.D. research was focused on stability testing of herbal extracts using analytical techniques. After completing her Ph.D. in 2020, she joined as Assistant Professor at Chandigarh Group of Colleges. She got an opportunity to join Hill Lab in January 2021, where she can further learn new analytical technologies and cell culture assays for discovery of new molecules in herbal extracts. In her spare time, Jasmeen likes to listen to music, cook, dance and go shopping with family and friends. She also desires to continue learning how to play the guitar.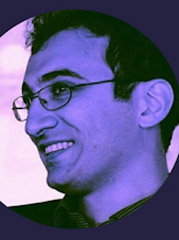 Ahmad Mani
Postdoctoral Fellow / Chemometrics and Data Analysis
Education:Ph.D. in Analytical Chemistry, Sharif University of Technology
Research: Application and development of machine learning methods for processing of GC×GC TOF MS data in clinical studies.
Biography: Ahmad was originally born in Iran and grew up in Tehran and Isfahan cities. He completed his master's and Ph.D. theses in Analytical Chemistry with focuses on Chemometric Modeling at Sharif University of Technology (SUT) in Tehran. His Master's and Ph.D. years' priorities were on the classification and clustering of large compound databases using cheminformatics methodologies. He tried to extricate general structure-activity relationships for speeding up the drug discovery projects. He joined Tarbiat Modares University (TMU) in Tehran as an assistant professor from 2013-2020. In the recent five years at TMU, he worked with Raman, FT-IR, EEM Fluorescence, and GC-MS data in the metabolomics realm. Ahmad's primary role in the Hill lab is processing complex GC×GC TOF MS data for predictive modeling of disease phenotypes. He specifically works on nontuberculosis mycobacteria lung disease and collaborates with other group members for biomarker discovery and model development. He loves trail sunning, sky running, and long runs in his spare time- especially in groups with other runners and hikers.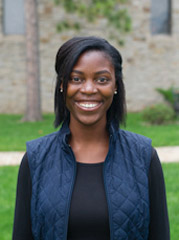 Miza Mwanza
Research Engineer
Education: B.Eng Biomedical Engineering, Dartmouth College; BSc Mathematics, St. Lawrence University
Research: Product commercialization and translational research.
Biography: Originally Zambian, Miza was born and raised in Swaziland, a small kingdom in Southern Africa. She completed her dual degree program in 2019 graduating with a BSc in Mathematics from St. Lawrence University, as well as a B.Eng in Biomedical Engineering from Dartmouth College. She joined the Hill lab in August 2018 as a student research assistant and transitioned to a full-time role upon graduation. In her role at the Hill lab, Miza provides technical and research support to various lab projects. She is currently leading the translation of some lab projects into commercialised and marketable products and service. Aside from public health and engineering, Miza likes travelling to new places, learning new languages, and keeping active (running, swimming and playing soccer). She is also passionate about social change and strives to make a difference whenever and wherever she can.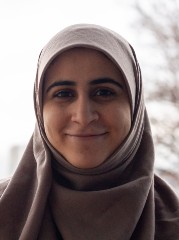 Alaa Heshmati
Research and Development (R&D) Engineer
Education:M.Eng Biomedical Engineering, University of British Columbia; B.S.E. Biomedical Engineering, University of Michigan
Research: Developing a breath sampling device to detect breath biomarkers.
Biography: Growing up, Alaa always wanted to be a medical doctor, but she also really enjoyed mathematics and learning how different devices worked. So in college, she discovered the field of biomedical engineering and hasn't looked back since. As an engineer, Alaa focuses on designing and developing medical devices to improve patient outcomes and advance healthcare. In her spare time, Alaa enjoys hiking, photography, playing volleyball and badminton, and is always up to try something new and have an adventure. She is also a big animal lover and is an active member of her local mosque, and loves spending quality time with friends and family.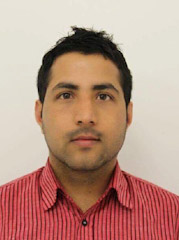 Basanta Dhodary
Postdoctoral Fellow
Education:PhD in Chemical Ecology from University of Konstanz Germany
Research: Microbial signaling and breath biomarker discovery for cystic fibrosis.
Biography: Born and raised in Nepal, Basanta completed his bachelor's degree in pharmacy from Kathmandu University, Nepal. After that, he joined Chosun University in South Korea for his master's in pharmacy with a research focus on natural product and bioactivity. In between, he gained few years of professional experience by working in a pharmaceutical company and academia. His interest in microbial secondary metabolite analysis and molecular microbiology further led him to begin his PhD. In December 2015, he was awarded with the Konstanz Research School Chemical Biology Fellowship for his PhD in Chemical Ecology/Biological Chemistry lab at University of Konstanz, Germany. He completed his PhD in July 2020 where his thesis investigated the chemistry of microbial players in the leaf cutting ant's microcosmos. In his spare time, Basanta loves to hike in the mountains and travel around.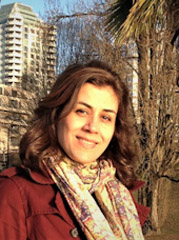 Shekooh Behroozian
Postdoctoral Fellow
Education: Ph.D., University of British Columbia; M.Sc., Shiraz University of Medical Sciences; B.Sc., Isfahan University
Research: Volatile biomarkers of bacterial pathogens associated with pulmonary infections.
Biography: Shekooh was born in the south of Iran, Abadan, and raised in Shiraz. Pursuing her inspiration in microscopical world, she got her B.Sc. in microbiology and later M.Sc. in medical microbiology with major focus on tracing multi-drug resistant (MDR) nosocomial superbugs by plasmid profiling. Having moved to Vancouver, Canada, she pursued her academic education at the University of British Columbia by joining Prof. Julian Davies' team, who is a pioneering scientist in antimicrobial resistance and discovery of microbial small molecules. Shekooh's Ph.D. studies were mostly focused on unearthing novel antimicrobial agents from natural sources such as clay minerals with potent activity against superbugs including ESKAPE pathogens and cystic fibrosis MDR isolates. Furthermore, transcriptomic studies together with her deep passion toward clinically applicable novel diagnostics led her to current omics- oriented studies at Hill Lab. Shekooh cherishes her spare time with nature, photography, literature, poems, and art.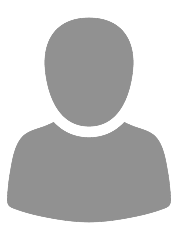 Vajiheh Salehi
Ph.D. Candidate
Education:MSc: Geoscience, University of Calgary; B.A.Sc.: Applied Chemistry, Sharif University of Technology.
Research: Comprehensive multidimensional chromatography studies for volatile and semi-volatile compounds.
Biography: Vajiheh was born and raised in Iran and moved to Canada in late 2011 to pursue her graduate studies at the University of Calgary. As a result of multidisciplinary nature of master's project, Vajiheh became an expert in electrochemistry (CV, EIS, CA) and GC-FID/TCD/ECD. During this time, she also gained experience in microbial cloning, DNA extraction, next generation MiSeq sample preparation as well as data analysis. In her free time, Vaji likes to run a lot and finds it rewarding to explore new places. She is always seeking for something new and different- a characteristic that has led her to the current path she is on.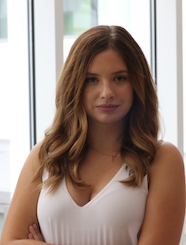 Carly Bobak
Ph.D. Candidate
Education: MSc. In Applied Mathematics, University of Guelph. BA in Applied Mathematics and Statistics, University of Guelph.
Research: Computational methods to increase the reproducibility of biomarker research in Tuberculosis
Biography: Carly was born and raised in Guelph, Ontario, Canada where she completed her Bachelor's and Master's degree in applied mathematics. Her academic research has always been focused on building mathematical and statistical models to study biological phenomena, and she joined the Quantitative Biomedical Sciences program in 2016 to further explore applications in the biomedical sciences domain. Her current research uses publicly available data from heterogenous studies to identify disease biomarkers using techniques from machine and statistical learning. She also investigates networking methods for multi-omic discovery of biomarkers to diagnose Tuberculosis. Carly spends her spare time hiking mountains with her trusty golden retriever sidekick.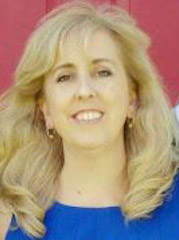 Kathy Phipps
Research Coordinator
Education: B.A. Psychology, University of Vermont
Research: Oncology Clinical Trials 1991-2019, Using breath to diagnose disease, 2019
Biography: Kathy grew up in Shrewsbury, MA and graduated from Worcester Academy. After high school, she ventured north to the great state of Vermont and, seemingly, never left. While at UVM, she worked as a research coordinator for a project studying interventions for chronic tension headaches. In 1991, she started working for Dartmouth College/Medical School at the Norris Cotton Cancer Center where she spent 27 years as a Sr. Clinical Research Coordinator for Oncology Clinical Trials. Over the years, she served on several national committees and was involved in mentoring new coordinators. Kathy is very active in her local church and a member of the choir. She enjoys music (as long as it is not country!), water aerobics, traveling, baking and spending time with friends and family.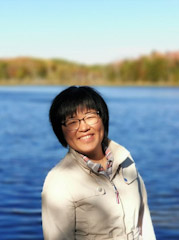 Ning (Sonja) Sun
Ph.D. Candidate
Education:Master's in Chemistry, Illinois Institute of Technology; B.S. in Pharmacy, Jinan University, Guangzhou
Research: Bioanalytical method development, metabolites/biomarker profiling.
Biography: Sonja was born in the East of China and moved to Shenzhen, a city in the South of China, at the age of seven. In her undergraduate university, she studied pharmacy and after, got a master's degree in the US in the field of analytical chemistry. Upon graduating, she joined IIT Research Institute (IITRI), a contract research organization, and worked there for six years. She gained solid experience in providing bioanalytical support for clinical and preclinical studies from the bioanalytical method development and validation, biomatrix preparation and extraction, HPLC/UPLC/GC/MS analysis to pharmacokinetics modeling and reporting. She was also responsible for lab training and instrument validation. In order to improve herself, she moved to Canada recently and joined the Hill lab as a Ph.D. student, focusing on Tuberculosis biomarker searching and breath sample analysis. Outside of the lab, Sonja loves sports such as soccer, badminton, tennis and road-trips to the national parks, looking for challenging hiking routes and beautiful scenes. She also likes reading Chinese traditional novels and poems in her spare time.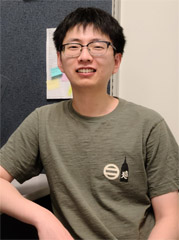 Antao Gao
Ph.D. Candidate
Education:MS in Chemistry, Illinois Institute of Technology; BS, Beijing Institute of Technology
Research: Exploration of Nontuberculous Mycobacteria (NTM) molecular airway markers using GC×GC TOF MS and machine learning tools.
Biography: Originally from Shandong province in China, Antao gained his bachelor's degree from Beijing Institute of Technology and his master's degree in Illinois Institute of Technology. Before joining the Hill lab, Antao worked for three years in the field of pharmaceutical analysis at IIT Research Institute, where he became skilled in bio-analysis and LC-MS/MS. He also has experience in dose formulation preparation and analysis. He started his Ph.D. in January 2021 and his research is related to fast diagnosis of various respiratory diseases. Walking or jogging along the lake is his favorite outdoor activity. He also loves playing the piano for relaxation and entertainment.
Lab Alumni
POSTDOCTORAL FELLOWS
MOHAMMAD SHARIF KHAN, PH.D
LILI KANG, PH.D, Ph.D
PIERRE-HUGHUES STEFANUTO, Ph.D
Current Position: Post-doctoral fellow, University of Liège
MARCO BECCARIA, Ph. D
Current Position: Research Scientist, University of Liège
GIORGIA PURCARO, Ph.D
Current Position: Analytical Chemistry Professor, University of Liège
FLAVIO FRANCHINA, Ph.D
Current Position: Post-doctoral fellow, University of Liège

LIONEL BLANCHET, Ph.D
Current position: Data scientist, Philips, Eindoven (The Netherland)
AGI SMOLINSKA, Ph.D
Current position: Postodoctoral fellow, Maastricht University (The Netherland)
HEATHER BEAN, Ph.D
Current Position: Assistant Professor, Arizona State University (School of Life Sciences)
INMA SAMPEDRO, Ph.D
Current Position: Assistant Professor, University of Granada (Spain)
YONGTAE AHN, Ph.D
Research: Motility and Adhesion of Pathogens
Current Position: Assistant Professor, Gyeongnam National University of Science and Technology (Korea)
FIONA BAIRD, Ph.D
Research: Microgravity effects on bacterial virulence and lunch cell immune responses.
Awards and Honors: Australian Postgraduate Award (2004), RMIT University OHS Award (2008), Deakin University Teaching Excellence Award (2010).
BROOK CLINTON, Ph.D
Research: Investigating iron uptake mechanisms and regulation in P.aeruginosa in the lung environment, particularly in relation to cystic fibrosis/nosocomial infections and biofilm formation.
YIN-MING KUO, Ph.D
Research: Rapid Determination of Volatile Organic Compounds during Bacterial Growth by ESI-MS.
Current Position: Postdoctoral fellow, Fox Chase Cancer Center (Philadelphia, PA)
Ph.D DEGREE GRADUATES

MAVRA NASIR, Ph.D

TED MELLORS, Ph.D
Current: Biostatistics Fellowship Program

CHRISTIAAN REES, Ph.D
Current: MD candidate at Geisel School of Medicine.

COURTNEY GILES, Ph.D
Research: The role of plant and bacterial organic anion production in soil phytate solubilization and cycling.
Awards and Honors: UVM James M. Jeffords Center Graduate Research Fellow (2010-2011), UVM School of Engineering, Graduate Teaching Assistant of the Year Award (2011)
JIANGJIANG ZHU, Ph.D
Research: Development and Application of Secondary Electrospray Ionization Mass Spectrometry (SESI-MS) for Rapid Pathogenic Bacteria Detection via Their Volatile Organic Compounds (VOCs) Profiling.
Awards and Honors: Donghua University Minor Scholarship for Graduate Student (2006), Donghua University Preeminent Student Leader Award (2002)
Current Position: Senior Fellow, University of Washington
MS DEGREE GRADUATES
LAUREN MCDONNELL
KRISTI HERZER
Research: Stress response of Pseudomonas aeruginosa to low shear altered gravity conditions using high aspect ratio bioreactors.
Current Position: Environmental Analyst, State of Vermont
JAIME JIMENEZ-DIAZ
Research: The impact of microgravity-grown Pseudomonas aeruginosa on human lung cells.
NICK JOHNSON
Research: Improving estimates of bioavailable P using enzyme systems.
JOSHUA TYLER
Research: Advanced and Integrated Model of Phosphorous Loading from High Runoff Events.
Awards and Honors: Tau Beta Pi, Engineering Honors Society, University of Vermont Chapter (2009-2011), Chi Epsilon, Civil Engineering Honors Society, University of Vermont Chapter (2009-2011), Knight Engineering Scholarship (2009-2011), R Swenson Scholarship (2008-2011), URECA Summer Research Grant (2009), Barrett Foundation Summer Research Grant (2008)
YIJIAN ZHENG
Research: In vitro selection of structure-switching signaling aptamers binding to 2-aminoacetophenone.
MEDICAL STUDENTS
MADELINE HAFF
Research: Breast milk biomarkers
PIERRE GALEA
Research: Identifying between species volatile chemical signals.
VISITING FACULTY
RAYMOND HOZALSKI, Ph.D (University of Minnesota)
Research: DNA aptamer development for small molecules.
VISITING STUDENTS
DI'VENNCI LUCAS (Stanford University)
Research: Phenotypic characteristics of P. aeruginosa clinical isolates from cystic fibrosis patients.
CHRIS ANIMASHAUN (University of Maryland, Baltimore County)
Research: Chemotaxis of P. aeruginosa towards 2-aminoacetophenone.
BACHELOR-LEVEL APPRENTICES
JULIA HOFFMAN

KATHERINE GOYETTE

SHASHWAT KALA

SHANNON KOSSMAN

POOJA SIKKA

ORKAN SEZER

KATIE GOLDSTEIN

KATHERINE KANE

ALEXA LEWIS

ARIELLE ISAACSON

LLOYD MAY
STEPHANIE HERR

VICTOR BORZA
JASMINE BUTLER

PAUL KIM
Research: Identifying volatiles in the human blood volatilome.
SUMITA STRANDER
Research: Elucidating the volatile organic compounds in human breast milk
ROCCO MORRA, Jr.
Research: Characterization of volatiles produced by common urinary pathogens when grown in urine as potential diagnostic markers in the context of UTIs (Honors Thesis project)
ALISON CLARKE
Research: The role of Pseudomonas aeruginosa chemotaxis in pathogenesis in clinically relevant scenarios; identifying chemoattractants and matching them to Pseudomonas chemoreceptors
VALENTINA SEDLACEK
Research: I am currently working on the Polyamines Project. Previous literature has shown that amino acids play an important role in bacterial pathogenesis. My research project is evaluating Pseudomonas aeruginosa chemoattraction towards Arginine metabolism-derived compounds.
JARED HINRICHS
Honors Thesis Research: Detection of Legionella Volatile Metabolite Fingerprint Using Electrospray Ionization - Mass Spectrometry.
Awards and Honors: Barrett Scholarship (2009), URECA award (2009).
JOHANNA MAYERHOFER
Research: Purification and Characterization Of Phytase from Pseudomonas aeruginosa PA01
CAROLINE MCMANUS
Research: Development of a Mass Spectrometer Technique to Detect Bacterial Pathogens in Humid Environments, particularly Legionella pneumophila.
Awards and Honors: Barrett Scholar (2008), URECA scholar (2008-2009).
KATIE MEDREK
Research: Volatile database creation and webmaster.
MARK SUOZZO
Honors Thesis Research: Removal of Phosphorus in High Strength Wastewater using Enhanced Biological Removal in a Membrane Bioreactor.
FRED NAUMANN
Research: Investigating the volatile metabolic biomarkers of tuberculosis to improve and speed detection.
JUSTIN PALUBA
Research: Bacterial adhesion and motility.
STUART SUTHERLAND
Research: Identifying between species volatile chemical signals.
ERIC VAUGHAN
Research: Chemotaxis of bacteria towards phosphorylated compounds.
DAVID ZHANG
Research: Determining the impact of motility on bacterial adhesion process and swimming behaviors.
TECHNICIANS
MARY STEPHENSON